Yosemite West Property &
Homeowners, Inc.
---
Living with Bears
Black bear activity has increased noticeably in Yosemite West during summer and fall 2004. There were reports of about fifteen home break ins (see photos of damage), some causing extensive property damage. Residents have also found bear paw prints on house windows and seen bears trying to rip off moulding around door frames and banging on closed doors. Fortunately, there haven't been any vehicle break ins. In early November 2004, a bear approached a person carrying a bag of garbage to a dumpster and the bear scraped the person's arm. The bears are active during the day as well as at night, although most reports have been of early morning activity (5 to 8 a.m.). Multiple bear sightings are occuring on an almost daily basis.
This acceleration in bear activity is likely due to a big cubbing season in the past two years and this year's dryness, which is causing a late acorn harvest.
People compromise an animal's safety by engaging in behavior that habituates a bear. Moose Mutlow of the NPS Bear Council spoke at the YWPHI annual meeting on September 5, 2004 to discuss ways for decreasing the impact of bears on our community and to suggest what people can do right now.
---
What You Can Do to Keep Bears Wild
Remove food sources for bears in Yosemite West


Trash is the major attractant for bears in Yosemite West. Do not put trash outside on decks. Keep trash inside or dispose of trash in bear-proof dumpster.
Use clip locks on bear-proof dumpsters.
Clean food off of barbecues and remove grease cans.
Do not keep pet food outside. Keep cats indoors because bears are a predator for cats (owls, however, kill the most cats).
Remove all bird feeders, including hummingbird feeders.
Do not feed wild birds or other animals: do not put out wild bird seed or mineral blocks, which attract bears as well as deer.
Harvest fruit from all fruit trees and preferably cut fruit trees down. Fruit such as apples are not a natural food source in this habitat.



Bear-proof your house and vehicle

Close and lock your windows and doors at all times unless you can easily view open windows and doors. Bears can open all types of windows and doors that are shut, but not locked. Bears have also climbed trees and dropped down onto upper-story decks. One athletic bear even entered a house through a third-story window (see photos of damage).
If you park your vehicles outside, remove all objects (whether or not they are food items or have a scent) visible inside your vehicles. Bears can associate shapes with food and may break into a vehicle mistaking a similarly shaped object for food. Consider leaving all your vehicles windows open all the way and opening the door on pick-up truck shells so a curious bear can investigate without causing damage.



Inform Your Guests
Print this page and/or explain the issues with bears to all of your guests for their safety and the safety of your property.


What Does Not Work

Unfortunately, use of exterior motion detector lights have not proven to be a deterrent.
Squirting a garden hose at a bear doesn't work either. Bears like water and have even been found in hot tubs and in the sewer pond.
Visit the International Association for Bear Research and Management (IBA) for links to the IBN News newsletter and Bear Safety Videos that show how to stay safe in bear country.
---
What Should You Do If You Have a Bear Problem
What to Do
Act immediately. It's all about dominance. Black bears consider themselves second to humans in this hierarchy.

Be aggressive with a black bear by making a lot of noise, chasing it and throwing stones at it.

Use "Counter Assault" (tel 800-695-3394), a grizzly-tough pepper spray, if you feel threatened. It is available at Miller's Mountain Sports in the Raley's Shopping Center in Oakhurst.

Who to Contact

Moose Mutlow of the NPS Bear Council is also a Yosemite West resident. Moose generously offered to be available to the community, so feel free to call Moose, tel (209) 372-4213, with questions about bears or when you have a bear problem.
Call the Mariposa County office of the California Fish & Game Department, tel (209) 966-3376. The agency does not relocate a habituated bear because it has the potential to attack humans, although there have been no threats to any people here. Their policy is to euthanize the animal, by baiting and trapping it and then shooting it. Two bears have been destroyed in Yosemite West already in 2004.
Do not contact NPS; this area is not within their jurisdiction and NPS will not handle any bear problems in Yosemite West even if it is a bear that has been tagged by NPS.
Notify your neighbors and email the YWPHI webmaster.



How to Help Identify a Problem Bear

Note the features of a bear when you see one - it's color and approximate size.
Look for any ear tags. There are two types of possible ear tags: a small tag (a bear that has been caught and tagged, but is not necessarily a problem bear); and a big tag (a bear that has repeatedly been trapped and is possibly a problem bear).
Examine area for bear scat after a sighting. When you find scat, look for any plastic or non-native food. The presence would indicate a habituated bear.
---
Kitchen counter, floor and cabinets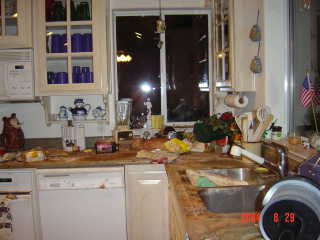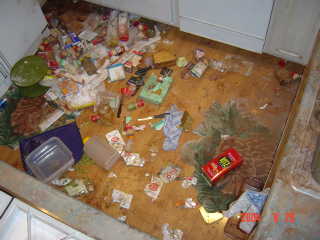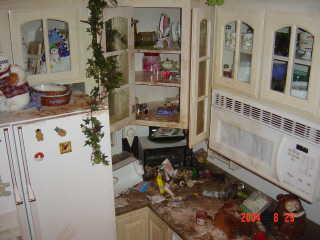 Bathroom vanity, lights and walls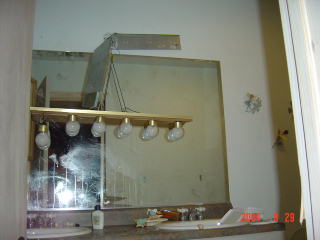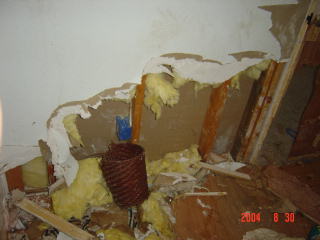 It is your responsibility to KEEP BEARS WILD.
---

Site Map
Copyright text © Yosemite West Property & Homeowners, Inc. 2003-2012, Copyright photographs © John Mock 2004-2012.
All rights reserved. Unauthorized redistribution of this document is prohibited. Updated February 7, 2012.