Yosemite West Property &
Homeowners, Inc.
---
In the Event of Emergency
In case of emergency, call 911. Activate the Yosemite West Emergency Telephone Tree when the situation affects the Yosemite West community.
To assist emergency service personnel in locating you, make sure your street address is adequately displayed. Refer to the detailed information about residence signs.
The Mariposa County Event Information Line, 209-966-1133 and 888-966-1133, is designated to provide information to the public during emergencies and disasters. Intervals between these events are used to share information, in particular, safety and education related items, with the community. These messages are created and provided by the Mariposa County Health Department, Mariposa County Sheriff's Office, and the Mariposa County Fire Department. The number can still be called during power outages but you must own and have ready, a corded phone that plugs directly into a wall.
For additional information about emergencies, disasters, and community preparedness, visit the following websites:

As of August 2009, the Mariposa County Sheriff's Office has contracted with Emergency Communications Network to license its CodeRED high-speed notification solution. Please visit the CodeRED Website's Community Notification Enrollment page to enter your address and phone numbers(s). Submitting this information will enable you to be notified by your local emergency response team in the event of emergency situations or critical community alerts.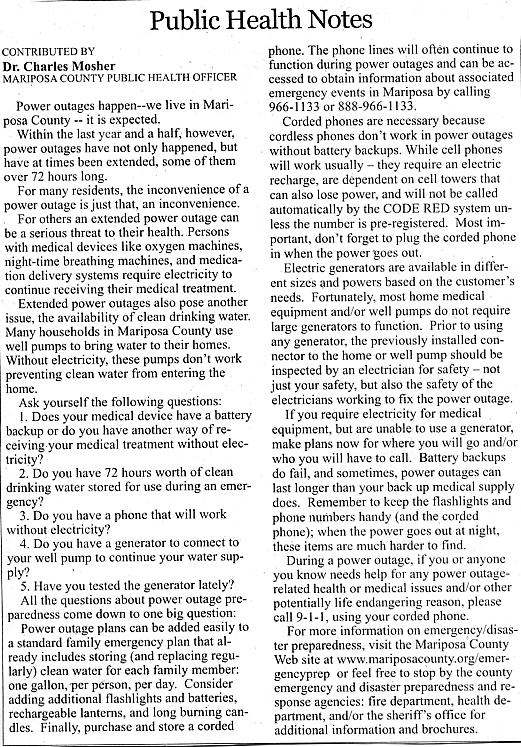 Fire
Fire 911
Yosemite Valley fire dispatch (209) 379-1998 & (209) 372-1992
Prescribed Burn Information Line (209) 375-9577 & (209) 372-0491


Medical
Medical emergency & ambulance 911
Advise dispatch of your hospital preference, e.g., Community Regional Medical Center (UCSF-Fresno) or St. Agnes Hospital in Fresno, or Doctor's Medical Center in Modesto
Yosemite Medical Clinic (209) 372-4637


Law Enforcement
Doug Binnewies, Sheriff; email: sheriff@mariposacounty.org
Mariposa County Sheriff (209) 966-3614, (800) 774-8314


Water Outage
Mariposa County Public Works Dept. (209) 966-5356


Power Outage
PG&E (800) 743-5002
Vehicle Trouble & Towing
Yosemite Garage (209) 372-8320
Wawona Garage (209) 375-6567


Evacuation Guidelines
Evacuation guidelines will be developed as a recommendation in the Yosemite West Community Wildfire Protection Plan.
---

Site Map
Copyright text © Yosemite West Property & Homeowners, Inc. 2003-2012, Copyright photographs © John Mock 2004-2012.
All rights reserved. Unauthorized redistribution of this document is prohibited. Updated February 7, 2012.